Passenger Boats From Dubai
Leading Exporter of Passenger Boats &
Specialty Crafts to the World
Smart Own
Passenger Boats Specialists
We offer small and medium size passenger boats for the water transport industry. Our boats are equally popular among the small water taxi owners and the big corporations.
Our success derives from our shipyards thriving 25 years experience in building marine crafts with a focus on simplicity, durability, maximized capacity and a uncompromising customer service quality.
Smart Own offers international standard boats with factory direct prices from the highest reputed boat builders in the United Arab Emirates.
Touring 36
29 passengers + Pilot
42 knots maximum speed
The World's best-selling passenger boat, the Touring 36 is the vessel of choice in the water transport industry. Excellent sea-handling and performance, together with its functional, yet comfortable layout lies at the basis of the Touring 36 undisputed reputation. This is a great addition to your fleet of passenger boats.
Touring 40
35 passengers + Pilot & Co-pilot
38 knots maximum speed
The big brother of the Touring 36, the Touring 40 offers a larger seating capacity (8 more seats than the Touring 36) and a wider beam. This is a multi-functional workhorse used for touring, exploring, diving, ferrying people or patrolling.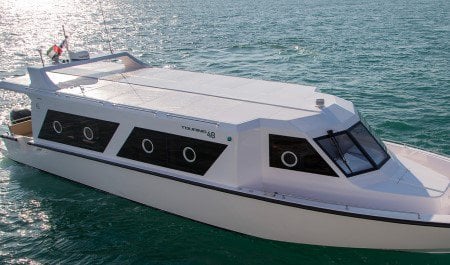 Touring 48 Ferry
46 passengers + captain + lugagge storage room
34 knots maximum speed
Business class seats for 46 passengers with a top speed of 34 knots, the Touring 48 Ferry is in a class of its own when it comes to comfort, speed and sea capabilities for a 46 feet passenger boat. And with its outboard engines options this is a commercial boat that can operate with piece of mind anywhere around the World.
Transporter 32
23 passengers + Pilot & Co-pilot
32 knots maximum speed
The Transporter 32 is a competitively-priced commercial boat built to the highest heavy duty standards using Japanese GRP molding methods.
Abra 36
16 passengers
7/15 knots maximum speed (electric/petrol)
Dubai's famous traditional water taxi comes now as a modern, fiberglass built passenger boat for 20 persons with electric, solar power and petrol propulsion versions. Available in open deck or soft enclosure cabin with air conditioning.
Sea Lounge 40
20 passengers + Pilot
34 knots maximum speed
A floating piece of art, the Sea Lounge 40 is an upscale meeting point for the distinguished few. With a capacity of a mega yacht, it is the perfect boat for a water restaurant or a dinner boat for corporate events or private ownership.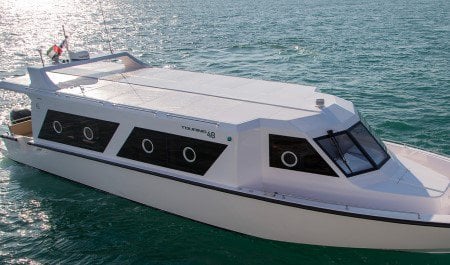 Touring 48 Lounge
16 passengers + Pilot
32 knots maximum speed
With sea going capabilities, the Touring 48 Lounge accommodates 16 VIP passengers in a luxurious and social saloon setting. And with its outboard engines this boat can operate anywhere in the World. The perfect VIP transport boat for a 5 star hotel resort or a corporation looking for a unique business meeting place.
Waveshuttle 56 Lounge
24 passengers + 3 crew (Lounge version)
48 passengers + 3 crew (Bus version)
28 knots maximum speed
With its panoramic glass deck and its unrivalled comfort facilities, the new Waveshuttle 56 defines business class travel on water. This boat comes in Bus version for maximum passengers capacity or Lounge version for VIP guests & corporate entertainment
CAT Ferry 39
70 passengers
24 knots maximum speed
A true offshore catamaran passenger boat, the CAT Ferry 39 offers unprecedented stability, manoeuvrability and safety standards in this category. This crew boat with a capacity of 70 passengers operates equally well in extreme sea conditions and in lakes and rivers with shallow waters. The perfect all-round passenger boat.
Customization
We are the leading provider of passenger boats and we have custom built passenger boats for sale. We work with one of the leading passenger boat manufacturers in the world to provide vessels based on your requirements.
Fast delivery
All boats on display are made to order and require between 2 and 6 months to deliver depending on the passenger boat model and engines choice. Our main passenger vessels are: Touring 36, Touring 40, Sea Lounge 40 and Waveshuttle 56.
International Shipping
We arrange shipping to any destination around the World. We have sold our boats to all 5 continents. There is no country or island we cannot reach. We ship to Africa, Latin America, Asia, Oceania or anywhere.
Recent Articles
Discover more information about our recent updates, company news and events.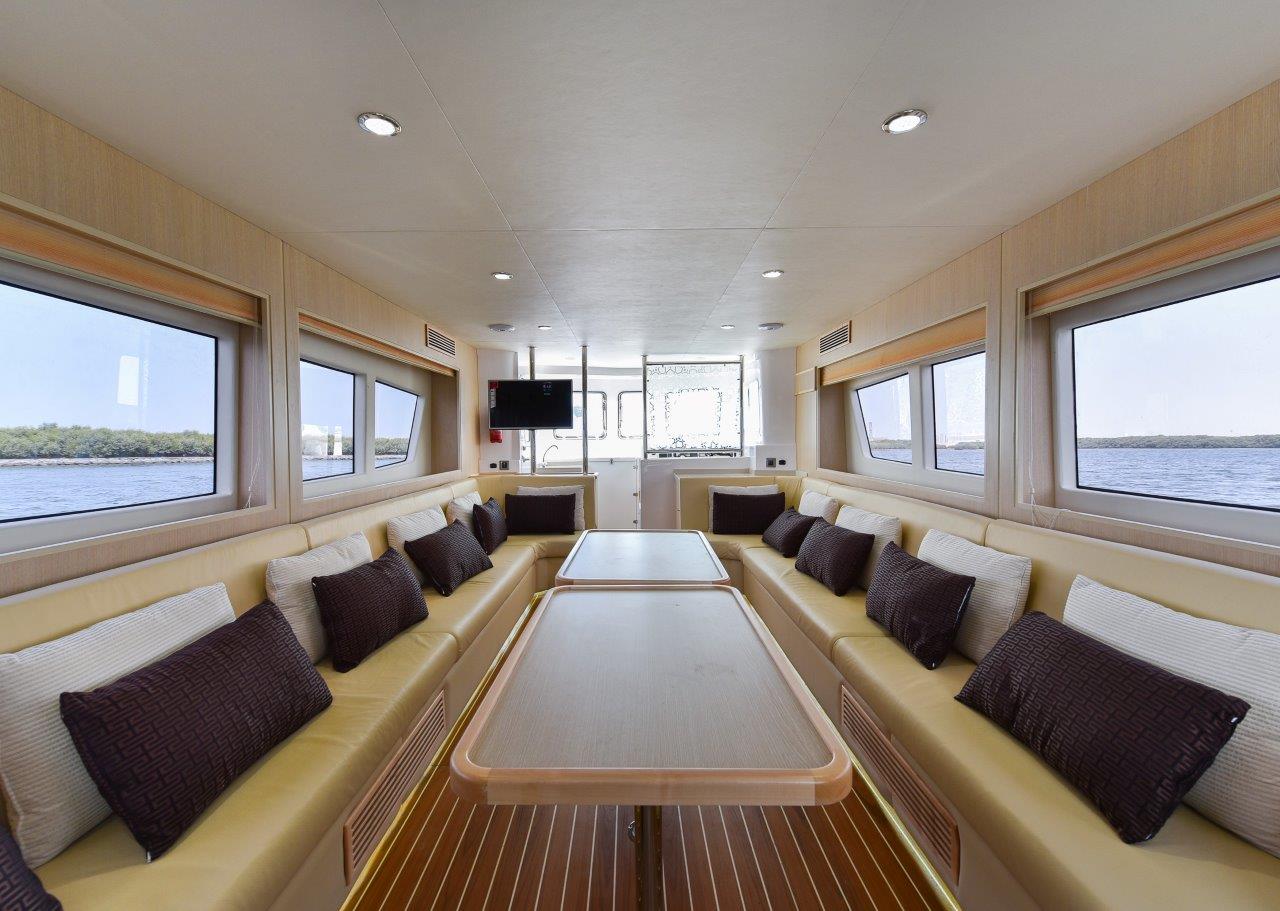 Can the location of a corporate meeting make a difference to its outcome? At Smart Own, we believe that being in direct physical contact with your products is essential to understanding the dynamics of your business and making sound, well-informed business decisions.In that spirit, we built the Sea Lounge 40 our luxury corporate boat.
read more