Passenger Boats From Dubai
Leading Exporter of Passenger Boats & Specialty Crafts to the World
We offer small and medium size passenger boats for the water transport industry. Our boats are equally popular among the small water taxi owners and the big corporations.
Our success derives from our shipyards thriving 25 years experience in building marine crafts with a focus on simplicity, durability, maximized capacity and a uncompromising customer service quality.
Smart Own offers international standard boats with factory direct prices from the highest reputed boat builders in the United Arab Emirates.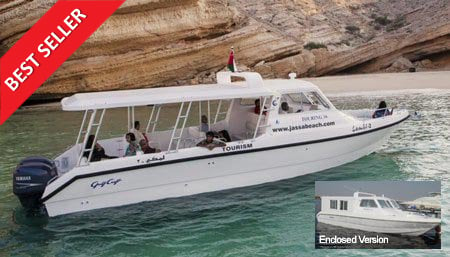 TOURING 36
Capacity 29 passengers + Pilot
42 knots maximum speed
The World's best selling passenger boat, the Touring 36 is the vessel of choice in the water transport industry. Excellent sea-handling and performance, together with its functional, yet comfortable lay-out lies at the basis of the Touring 36 undisputed reputation.
TOURING 40
Capacity 35 passengers + Pilot & Co-pilot
38 knots maximum speed
The big brother of the Touring 36, the Touring 40 offers a larger seating capacity and a wider beam. This is a multi-functional workhorse used for touring, exploring, diving, ferrying people or patrolling.
TRANSPORTER 32
Capacity 23 passengers + Pilot + Co-Pilot
32 knots maximum speed
The Transporter 32 is a competitively priced commercial boat built to the highest heavy duty standards using Japanese GRP molding methods.
JAJI 31
Capacity 28 passengers + Pilot
40 knots maximum speed
We spent three years roaming around Africa's waterways learning how to design the perfect passenger boat. JAJI 31 is the fruit of our extensive knowledge of the African water transport industry. Built in Dubai it is the first water taxi in the World that is designed specifically for the African market.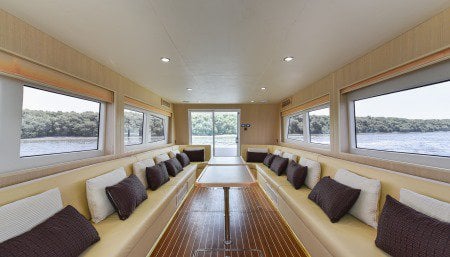 SEA LOUNGE 40
Capacity 20 passengers + Pilot
34 knots maximum speed
A floating piece of art, the Sea Lounge 40 is an upscale meeting point for the distinguished few. With a capacity of a mega yacht, it is the boat for a water restaurant, corporate event or private ownership.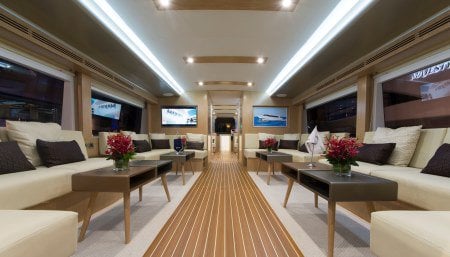 WAVESHUTTLE 56
Capacity 24 passengers + 3 crew (Lounge version)
Capacity 48 passengers + 3 crew (Bus version)
28 knots maximum speed With its panoramic glass deck and its unrivaled comfort facilities, the new Waveshuttle 56 defines business class travel on water. This boat comes in Bus version for maximum passengers capacity or Lounge version for VIP guests & corporate entertainment
CAT FERRY 39
Capacity: 70 passengers
24 knots maximum speed
A true offshore catamaran passenger boat, the CAT Ferry 39 offers unprecedented stability, manoeuvrability and safety standards in this category. This crew boat of 70 passengers operates equally well in extreme sea conditions and in lakes and rivers with shallow waters. The perfect all-round passenger boat.
FERRY 75
Capacity 100 passengers + 4 crew beds
20 knots maximum speed
The Ferry 75 has a seating capacity for 100 passengers divided into two separate air conditioned sections. An economy class section with high quality comfortable armchair seats for 88 passengers and a luxury lounge for 12 VIP passengers. The boat comes with a crew cabin with 4 bunk beds.
SCUBA 32
Capacity 9 passengers + Pilot
32 knots maximum speed
A scuba diving purpose built boat with 16 tanks compartments and a diving door and ladder. The perfect boat for beach resorts and diving centers.
Customization
We are the leading provider of passenger boats and we have custom built passenger boats for sale. We work with one of the leading passenger boat manufacturers in the world to provide vessels based on your requirements.
International Shipping
We arrange shipping to any destination around the World. We have sold our boats to all 5 continents. There is no country or island we cannot reach. We ship to Africa, Latin America, Asia, Oceania or anywhere.